We are the fast and flexible supplier that delivers specially designed electric heating solutions.
We have a large and varied range of electrical heating components that enable us to manufacture special solutions in a short time. If you have a problem, contact us so we can give you a solution.
Electrical tracing of sprinkler installations, water pipes in houses, drains, water pumps and water meters.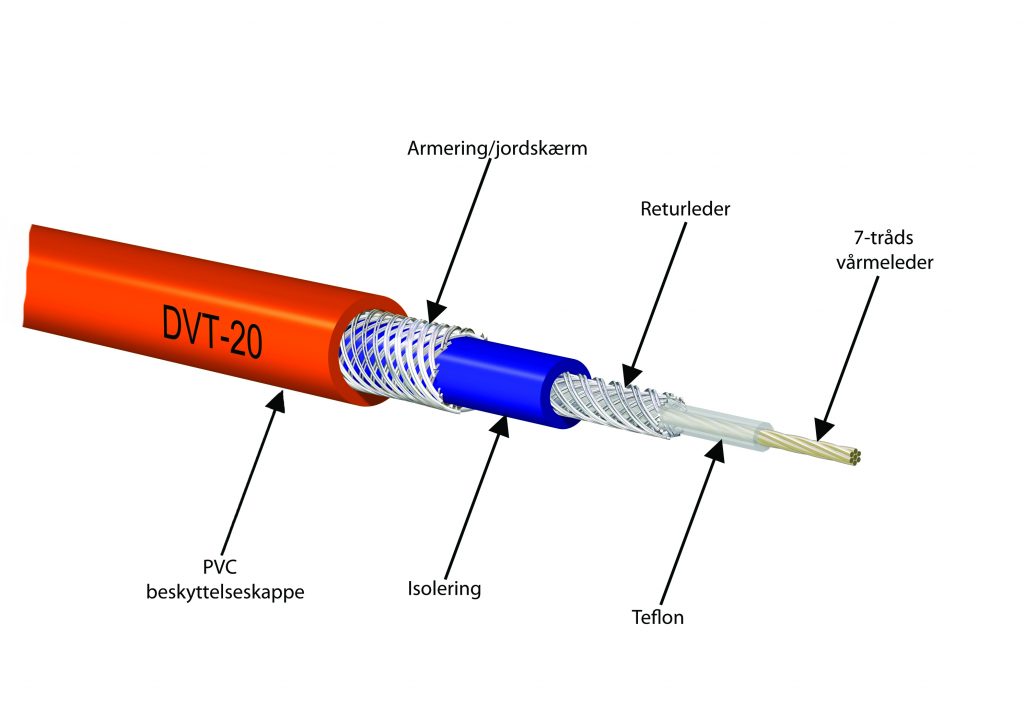 Pex Guard self-regulating pipe-in-pipe frost protection cables
Frost protection at cooler doors

These heating cables are designed to be laid inside drainage pipes from cooling systems installed in refrigeration and freezing rooms. They only operate during the thawing cycle.

These heating cables are fitted to refrigerating compressors to prevent the coolant from being absorbed by the oil. The lower the temperature, the quicker and the more complete the absorption, which can seriously damage the compressor, especially when starting up, through lack of lubrication.
Frost Protection cables with integrated thermostat and plug
Frost protections of pipes.
These cables can be used for many purposes including frost protection of pipes and vessels. Varmekabelet is self-regulating which means it adjust the meter for meter. There are built-in thermostat so that the cable is switched on at +5 ° C.
Self-limiting heating cables are constructed with a thermistor element between two paralle copper conductors. When DVU antifreeze cables connected to the mains a current flows through the temperaturafhænginge resistor element, thereby heating it. When the element is heated increases the resistance value and the current falls wherein said heating is restricted. Hence the self-limiting effect.
This regulation of power takes place independent anywhere on the heating cable adjusted to the current ambient temperature.
DVU heating cable used in places where you want to maintain a certain temperature in the pipework. Typical applications include hot-water installations and drainage systems in homes, buildings, institutions, industry, etc.
The image shows HandyHeat DVU solution containing ½ "and ¾" screw to the inside of the tube
Cables specially designed for water applications.
Along the ear appears our DVU solution is a cable for external use, here recommended to use aluminum tape for fastening, the tape is resistant to chemicals and heat also is really good to reflect heat.
Kablerne fås i følgende meter, 10 Watt/m
| | |
| --- | --- |
| EAN number | Model |
| 5707524799519 | DVU-0,5 meter |
| 5707524799520 | DVU-1 meter |
| 5707524799537 | DVU-2 meter |
| 5707524799551 | DVU-3 meter |
| 5707524799575 | DVU-4 meter |
| 5707524799599 | DVU-5 meter |
| 5707524799599 | DVU-5 meter |
| 5707524799612 | DVU-6 meter |
| | |
| --- | --- |
| EAN number | Model |
| 5707524799650 | DVU-8 meter |
| 5707524799698 | DVU-10 meter |
| 5707524799735 | DVU-12 meter |
| 5707524799773 | DVU-14 meter |
| 5707524799810 | DVU-16 meter |
| 5707524799858 | DVU-18 meter |
| 5707524799896 | DVU-20 meter |
| 5707524799995 | DVU-100 meter rolls |
Subsequent meters are made on request.